'Manitham' is a Tamil word that translates into 'being humane'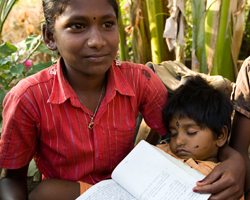 Manitham Charitable Trust is a non-profit organization that was founded in the year 2005 by Mr. Vanarajan Swamidoss. It is a grass root organization that focuses on working with communities children and the youth to ensure their development, empowerment of adolescent girls and upbringing through its projects.
Vision
We strives for social inclusion of the socially excluded section of the community through education with the belief that, despite of being rural or urban, all children should have equal opportunities
Mission
Our mission is to provide educational support for the underprivileged children and life skill empowerment for adolescent girls to realize their full potential for better future
Objectives
Ensuring informal quality education for rural children
Helping the disadvantaged children
Empowering the rural adolescent girl children
Bridging the gap in after school learning
Ensuring the children attaining basic competences in Maths, Tamil and English
Making a Child labor and Child marriage free community
 Presently
Manitham
operates in the deep rural regions of Tamil Nadu, India.
Manitham
has 15 centers, and works with around 600 children through these centers and its projects.The
Manitham
Centers play home to the communities, where they are engaged through workshops and sessions to learn and grow.
There are various social barriers and challenges faced by the communities of these regions that need to be highlighted. Manitham presently is focusing on campaigning and spreading more awareness for the need for change and consciousness against these social evils.
Manitham
functions with a small team of individuals, and majorly implements its projects through its mentors and volunteers.